ABOUT THE PROJECT
The Idea
Back in 2013, I've been working with a renewable energy company, HNU Energy, and they approached me to film a new project of theirs – fabricate, engineer and install the largest solar carport in Maui County at the UH MAUI Campus. There are 1740 panels rated at 565kW. Custom designed, locally fabricated concrete "T" columns and all aluminum racking with 100% stainless steel fittings minimize the impact of this highly corrosive marine environment.
I gave them a proposal to film key steps of the project during a 3 month period. I didn't really know what I would be editing for them, just documenting the process.
The Goal
Because this was a huge project for HNU, I wanted to pull out all the stops to cover the action. So my plan was to utilize many different camera rigs, set-ups, including shooting on a slider, time lapse, camera jib, drone, filming from a bucket truck, GoPro POV shots etc.
The Process
The project was so huge involving fabricating cement pillars at the baseyard, transporting them by truck, setting the foundations and installing the solar panels, I started scheduling shooting dates. For some of our specialty camera rigs I had to get innovative.  How can a power a GoPro to take time lapse where there is no power to the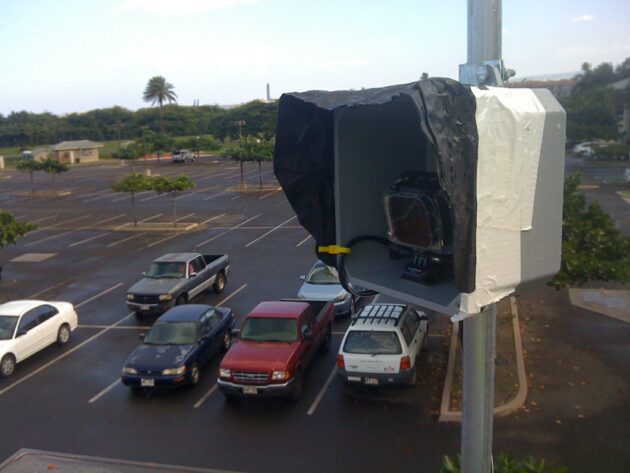 site? How do I get it positioned at a high vantage point? I fabricated a 20 foot conduit pipe with a circuit box attached to the top to house the GoPro from the elements. I configured a 6 volt battery converted to 110 power and wired it up the pole to the GoPro. After a few flub tests it worked and I was able to get a good weeks worth of time lapse recorded before I had to charge the battery and change cards.
Other camera rigs were GoPro POV shots attached to different pieces of equipment like fork lifts and trusses.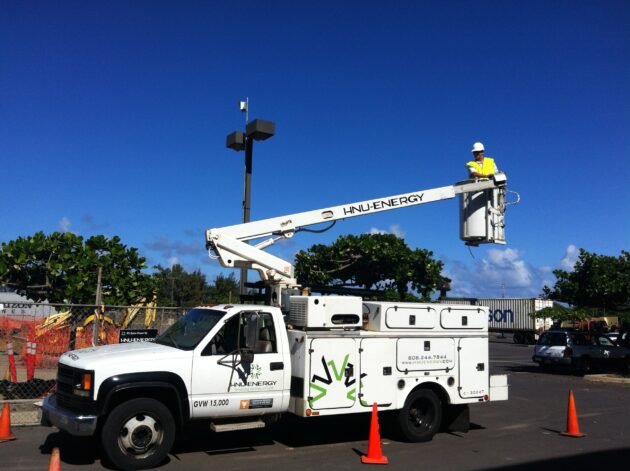 Other filming was more traditional using a camera slider, jib arm and filming out of a bucket truck which the HNU guys let me operate on my own. That was fun!
I also hire a couple of drone operators one of which is Harry Donenfeld.
The client didn't ask to see any of the footage during the process. That would have been a nightmare since there was so much. We didn't do any interviews so when it came to do the edit, I was leaning toward a purely visual piece since the footage was so compelling. I was listening for some music to use and heard a track composed by Henry Jackman for the movie "X-Men, First Class". I started working with it and decided to do a film trailer style edit.
The Results
It was really fun editing it together, making sequences and transitions work with the great piece of music I was using. It was really dynamic and had a "building" tonal quality that was in line with the solar carport build. I really liked how it turned out and the client did too! The result is a film trailer of HNU Energy's design/build solar carport at the UH-Maui campus produced & directed by Kevin Harrington. HNU ask to do a secondary edit of an additional solar panel column/row installed later showing it more in chronological order.
Here are some testimonials from clients:
"Kevin,

Thanks for sending me the link to your HNU Solar Carport trailer.   It was extremely well done.  The editing was effective and dynamic and the music created just the right degree of tension and excitement.

What really impressed me was the constant camera movement.  It really worked.  Even in relatively static shots the camera was very slowing drifting and in the few shots where the camera was not moving the subjects were. One of my favorite shots is the dolly move past the tape measure and the legal tablet. The breeze lifting the edge of the tablet is perfect. Such a simple, effective shot. This attention to detail coupled with the GoPro iso shots added production value that you rarely see in commercial work."

Keith Turner,
Business owner


"The footage is absolutely beautiful, stunning work my friend."


Dan O'Connell
HNU Energy | CEO

"That is slick Kev, extremely well done!"

Michael Reiley
HNU Energy | President